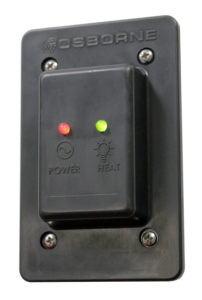 August 18, 2015 – Osborne, Kan., Osborne Industries, Inc., a leading manufacturer of swine management equipment, is pleased to introduce an all-new electric indicator light for the company's signature Stanfield pig heating pads. The patent-pending indicator light provides visual confirmation that heat pads are operating properly and providing crucial heat to newborn piglets in farrowing or growing pigs in nurseries.
Unlike other heat pad indicators, Osborne's product features two LED lights. The unique two-light system shows that electrical circuits are functioning properly, and that heat pads are drawing electricity and providing the necessary heat for young pigs. The addition of the heat pad indicator to Stanfield heat pads eliminates the need for infrared temperature wands or physically inspecting individual pads to ensure they are operating properly.
To read the remainder of the post please visit our Osborne Livestock site.