Career Opportunities at Osborne Industries, Inc.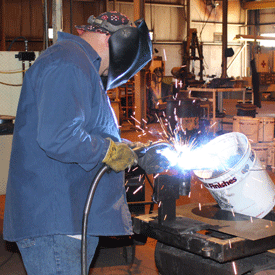 Osborne Industries has attracted and challenged an excellent, highly-qualified workforce that is composed of small-town people with a rural heritage of pride in workmanship. With strong core values and a shared sense of purpose, this core group of people has helped the company grow at a steady pace since its founding in 1973 by attracting others looking for the quality of life to be found in our small, rural community.
Employment has grown from only a handful in 1973 to currently over 100 employees. Osborne Industries is currently recruiting for the positions listed below. Job listings are Adobe Acrobat Portable Document Files (pdf files). You will need Adobe Acrobat Reader to view and print the job listings.
Current Available Positions:
To apply online, please click here.

To apply via mail or e-mail, please send your resume to:
Human Resources Department
Osborne Industries, Inc.
P.O. Box 388
Osborne, KS 67473
hr@osborne-ind.com

For more information about employment opportunities, contact us online today or give us a call at 1-800-255-0316.