August 16, 2018 – Osborne, Kansas, USA – Osborne Industries, Inc., is pleased to announce a new milestone has been reached by long-time employee, Vicki Corbett of Osborne, Kan. Corbett celebrated her 40 year employment anniversary on Thursday, July 19, 2018.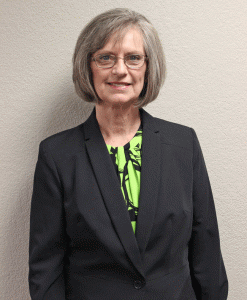 George Eakin, President and CEO of Osborne, noted, "To many of our customers, Vicki is Osborne. Over her 40 year history with the company, she has cultivated and maintained excellent relationships with our many customers all over the world." Corbett first began with Osborne in 1978, as the receptionist, before transitioning to customer service and management roles over the years. Corbett has also served on the Board of Directors since 2011.
Corbett has played a vital role in the expansion of Osborne's export business, which started with its first overseas shipment to Japan in 1979. Osborne has exported products to over 40 countries worldwide and was the recipient of the prestigious Kansas Exporter of the Year award in 2010. As Vice President, CSM, Corbett oversees the company's activities in sales, marketing, customer service and shipping and receiving in the OEM, livestock equipment and pet products divisions. Corbett will continue to assist in Osborne's major export business, a division that constitutes nearly 30% of total company sales.
A native of rural Esbon, Kan., Corbett resides in Osborne with her husband, Brad. Together they have four children and seven grandchildren.
Osborne Industries, Inc., is a diversified developer and manufacturer of an array of innovative products for agriculture and industry and is a major employer in north central Kansas. The company was organized in 1973. For more information on Osborne and their products and services, visit www.osborne-ind.com or e-mail info@osborne-ind.com.
###