May 19, 2021 – Osborne, Kansas, USA – Osborne Industries, Inc., a leading manufacturer and distributor of livestock management equipment, is pleased to introduce its new product designed to solve the ever-present problems of feed bridging in bulk bins at livestock facilities and farms. Flow Pro®, an automatic feed agitation system, uses a gently-rotating agitator inside a bulk bin's boot to promote first in, first out, mass-flow of feed. The new product will be on display at the 2021 World Pork Expo, June 9-11, at the Iowa State Fairgrounds in Des Moines, Iowa.
Unlike other feed bridging solutions commercially available, Osborne's Flow Pro system uses neither high-frequency vibration nor blunt impact to bin boots or collars to ensure continuous feed flow. Instead, Flow Pro's rotating agitator provides gentle agitation inside the bin boot as automatic feed delivery systems operate. The rugged auger – making about 100 revolutions per minute (RPM) – ensures continuous flow without compromising feed quality. Though the system provides steady and gentle agitation, clumps and compacted feed from high humidity or moisture are easily destroyed before they reach feed lines, preventing plugging issues. Flow Pro also eliminates bin wear-and-tear caused by vibrating systems or impacting hammers and mallets. Independent product testing confirms first in, first out flow of a variety of feedstuffs, with no adverse effects on bins or performance of automatic feed lines.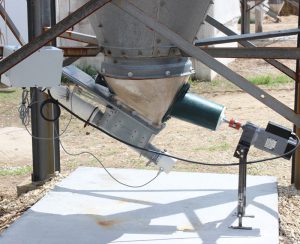 Flow Pro is now available for bins of various sizes with both straight and 30-degree boots. Simple system controls and sensors operate at 120/240 VAC and activate automatically and simultaneously with feed delivery systems. The Flow Pro system can be installed even with a bin full of feed, and system demonstrations of its operation will be shown at Osborne's booth V451 at World Pork Expo.
Osborne Industries, Inc., is a 100% employee-owned manufacturer and distributor of livestock feeding and weighing equipment. Products like the company's Stanfield heating mats, Big Wheel pig feeders, and ACCU-ARM portable livestock scales are recognized for their ease of use, quality, and longevity in the field. RFID-driven, advanced automated feeding and weighing systems, including TEAM electronic sow feeding (ESF) systems, FIRE pig performance testing feeders, and Weight Watcher automatic growing and sorting systems for large pen finishing are used by leading production and genetics companies across the world.
For more information on Osborne products, including the Flow Pro automatic bulk bin agitator, please contact Osborne at sales@osborne-ind.com or visit www.osbornelivestockequipment.com. Flow Pro is covered by one or more patents (PAT osborne-ind.com/ip) and is a licensed product of Fat Lump Buster, LLC.
###