Leading original equipment manufacturers (OEMs) across the globe have relied on the highly engineered thermoset polymer, polydicyclopentadiene (pDCPD), for the most demanding applications for decades. Today, with over 25 years of experience in working with DCPD, Osborne Industries, Inc., is pleased to offer its custom molding services with pDCPD in a variety of colors customized to match OEM equipment and products.
Offering an outstanding combination of chemical and corrosion resistance, stiffness, impact strength, and heat resistance, pDCPD offers the molding flexibility and design freedom needed to produce custom-molded parts where tough, lightweight, and aesthetically pleasing appearance is required. The thermosetting material is widely used for large equipment body panels and housings, construction and industrial equipment, chemical processing equipment, fan shrouds, fenders, and much more.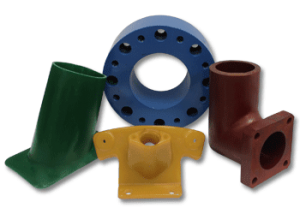 As a liquid thermoset composite, DCPD is processed via Reaction Injection Molding (RIM), enabling the use of low-cost molds and fast cycle times. With virtually no limitation on part size or weight, parts manufactured with DCPD can range in thickness from 0.1 inches to 12+ inches and at surface areas from 1 ft2 to 140 ft2. Owing to the polymer's low viscosity, pDCPD allows for an excellent replication of surface features while simultaneously accepting custom fillers for added strength, flame resistance, and now color.
"Along with DCPD's excellent performance in demanding applications, we're excited to now offer custom-formulated resin systems to color-match existing OEM equipment," said Osborne's Engineering Manager, Brent Brown. "Adding the ability to color-match DCPD gives us the opportunity to offer yet another customizable solution for our customers."
Since 1973, Osborne has worked extensively with the Resin Transfer Molding (RTM) and RIM processes, and was one of the first molding firms in the U.S. to work with DCPD. In conjunction with leading OEMs across the country, Osborne has completed dozens of successful pDCPD projects and is poised to take on new molding projects into the new decade and beyond.
For more information on Osborne's custom molding services and how they can help solve your toughest plastics challenges, contact us today.