November 5, 2021 – Osborne, Kansas, USA – Osborne Industries, Inc., recently recognized Kylie (Mans) Corwin at the company's annual Employee Stock Ownership Plan (ESOP) meeting on October 22, 2021, for demonstrating her commitment to the company's newly established values.
Members of Osborne Industries' leadership team, made up of George Eakin, Vicki Corbett, Brent Brown, Dale Geist, Amy Conrad, Jeff Albert, and Kristi Ohnsat, recently participated in a year-long Strategic Planning program. Part of the Strategic Planning involved establishing a Vision, Mission, and Values for the company. "Having well-defined and understood Vision, Mission, and Values provides our team of employee owners with clarity of our organization's values," said Amy Conrad. "By educating the entire team on what is important as an organization, it provides the guidance needed to allow our team the confidence to make decisions that align with our goals and are in the best interest of our company." The Values, which are what the company believes, include: Innovation Driven, Integrity and Trust, Financial Stability, Customer Satisfaction, Quality Focused, and Employee Focused.
As part of the month-long celebration of Employee Ownership Month in October, employee owners at Osborne Industries were encouraged to nominate a fellow co-worker who had done something in recent months to exemplify one (or more) of the company values. Several significant nominations were received and the ESOP Communication and Advisory Committee (ECAC) narrowed the selection down and presented the leadership team with their top three nominations. The leadership team members independently ranked each nomination and the ECAC used those rankings to determine the top nomination.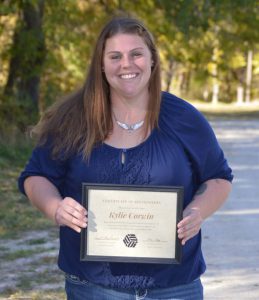 Corwin, of Osborne, Kan., was recognized and awarded an extra vacation day for being selected as the top nomination. Her nomination was selected based upon her exemplary display of the company values of Customer Satisfaction, and Integrity and Trust.
In July, when an area supervisor was on vacation, multiple departments had exceeded the production output that was anticipated. Seeing several departments were going to be finished with their priorities early, Corwin stepped up and notified others that new production lists and shop orders needed to be issued to ensure the team could continue filling customer orders as quickly as possible. While this isn't typically Corwin's responsibility, she understood the importance of ensuring the team continued working on the most urgent priorities. This demonstrated a great commitment and understanding of the company value Customer Satisfaction.
Additionally, knowing that Corwin will step up and let others know when issues arise or there are additional needs is a great example that she demonstrates the company value of Integrity and Trust.
Corwin has been employed by Osborne Industries for 13 years and resides in Osborne with her husband, Brent, and sons, Conner and Jamon. She is a 2007 graduate of Osborne High School.