November 10, 2021 – Osborne, Kansas, USA – October is Employee Ownership Month in the United States, when more than 6,500 ESOPs (Employee Stock Ownership Plans) celebrate this special time of year. ESOPs across the country have asset holdings of more than $1.4 trillion and have approximately 14 million participants. Osborne Industries' ESOP was formed in 2001 when the original shareholders sold 30% of their equity interest in the company to the employees. Then in 2007, the remaining 70% was sold to the company, making Osborne Industries 100% employee owned.
During the month of October, the employee owners of Osborne Industries participated in weekly games of Owner Bingo, with winning Owner cards being eligible for drawings of bonus vacation days. The Owner-card squares covered a number of ESOP facts along with Osborne Industries' newly-developed Vision, Mission, and Values.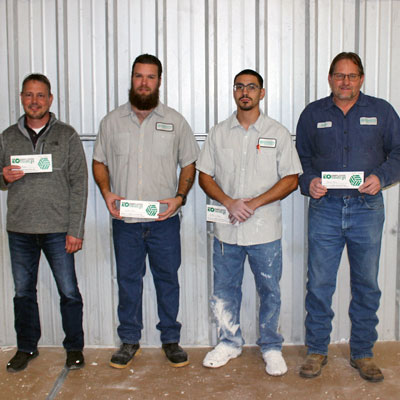 Winners of the Owner Bingo games were: week 1 – Brian Palen (far right), week 2 – Dallas Rolls (second from left), and week 3 – Austin Gilkey (second from right).
Also eligible for a fourth drawing for a bonus vacation day were employees who nominated a fellow co-worker who had done something to exemplify one of the company values (Innovation Driven, Integrity and Trust, Financial Stability, Customer Satisfaction, Quality Focused, and Employee Focused). Employee owners who helped share the need of open employment positions via social media and other means were also eligible for this drawing.
The final vacation day winner was Brent Brown (far left).
"The celebration of Employee Ownership Month is a time when employee owners can take pride in the work they have accomplished over the past year," said Jim Hindman, ESOP Communications and Advisory Committee (ECAC) member. "An ESOP is more than a wealth-building retirement plan; it serves as a reminder of what is possible when everyone is working toward a common goal of providing quality products and services to our customers."
To conclude the month-long celebration, the employee owners enjoyed a company-wide meal on Friday, October 29, 2021.